Jan 31 2021
On Friday 6 January we went to the Revenue Office in Udon Thani to get some papers that I needed for the Dutch Taxes Office. The result was disappointing because the correct procedure was that my local Revenue Office in Sawang Daen Din have to send a request to Udon Thani. Also Udon Thani wanted me to do another kind of Tax payment, so we had to postpone the request in Thailand until my new Tax return of 2020 that I will do in February or March this year. I have send my Dutch Tax deduction request with some other proof documents and we will find out if that is enough or not.
My first bike ride on 1 January started a little late because of again a flat tire. So I had to postpone the ride to the next day after the tire got repaired. For the Conqueror Virtual challenges I started the "Conquer 2021", a challenge were you set your own goal for the year, mine is 2.021 mile (3.252,5 km of cycling, running and walking together, no daily steps). I finished the "Camino de Santiago", I started & finished the "Inca Trail" and I started the Giza Pyramids. For the last two I only count my daily steps because they are shorter distances. Doing these challenges gives me extra motivation to exercise a bit more.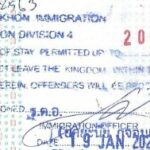 On Tuesday 19 January we went to Immigration Sakon Nakhon to get my official Visa extent in my passport. We gave the Immigration officers a small gift for the New Year. At the "Home Pro" in Sakon Nakhon we bought a rain shower for our bathroom and some things for our garden. After that we went to the Robinson shopping mall for lunch and some shopping with Tops Supermarket.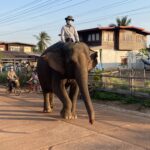 Other things that happened:
– Preauw & Both came around the New Year a few days home.
– On 9 January we had a celebration of our village.
– We had a visit of an elephant in our village.
– I had again a lunch at Kham Ta Kla and did my normal shopping.
– My extra Covid-19 insurance is now another year valid.
– I bought almost new Synology NAS (more about that in a next blog).